L'entreprise Urwibutso à Nyirangarama convoitée par un proche du FPR(READ ENGLISH VERSION BELOW)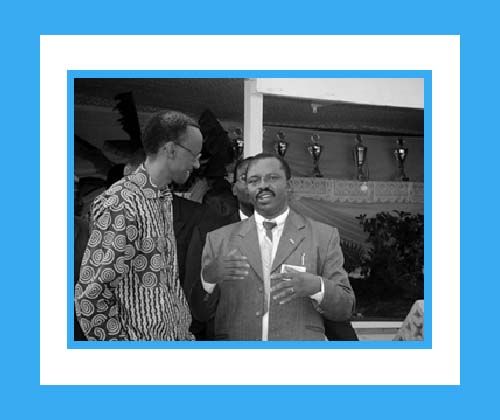 Autodidacte et ancien garçon de la rue, Gérad Sina a fait de Nyirangarama une belle vitrine de l'innovation industrielle au Rwanda. Leader dans l'agro-alimentaire au Rwanda, son entreprise Urwibutso vaut plusieurs milliards de francs rwandais. Elle est convoitée par un proche du régime de
Kigali
venu de la diaspora. Les manoeuvres de déstabilisation ont déjà commencé.
Un parcours sans faute
Récupéré dans la rue par Damien Libakare, patron de Luna bar à Kigali en face du marché central et du bar restaurant de Nyirangarama dans l'ex-commune de Tare, Gérard Sina fut adopté par la famille. Il quitta très tôt l'école primaire pour suivre les camions de son père adoptif dont il épousa plutard une fille. Après la mort de son mentor et père adoptif qui l'avait initié aux affaires, il reprit avec brio le bar restaurant de Nyirangarama, célèbre pour sa soupe aux voyageurs à base de viande de boeuf préparée à la méthode traditionelle appelée Umufa. La pause de Nyirangarama était indispensable pour la poursuite du voyage avant d'affronter la montée des collines de la préfecture de Ruhengeri après la plaine de Base.
Gérard Sina n'a jamais quitté son pays. Après la prise du pouvoir au Rwanda par le FPR, il acommença à investir dans le domaine agro-alimentaire attirant ainsi la curiosité du nouveau régime qui lui a offert une tribune publicitaire. Son entreprise exporte dans le monde entier du jus de maracuja (fruit de la passion), d'ananas et de fraises, et du poivre vert (pilipili). Leader dans le domaine agro-alimentaire au Rwanda, monsieur Sina est régulièrement invité dans des foires internationaux. A Francfort en Allemagne, il a reçu le prix de l'arche de l'Europe. A la dernière foire de Kigali, il a présenté un nouveau produit issu de son laboratoire de recheche et dévéloppement, l'huile de maracuja.
Les usines de Gérad Sina ont acceuilli plusieurs visiteurs de marque dont le président de la république Paul Kagame, le premier ministre Bernard Makuza, l'ancien premier ministre britanique Tony Blair, le ministre français des affaires étrangères
Bernard Kouchner
et l'ancien président de la banque mondiale Wolvowitch, pour ne citer que cela. Il a déjà reçu le prix du meilleur entrepreneur rwandais.
Une réussite qui fait grincer les dents
La réussite de cet enfant de Nyirangarama attire les jalousies. Un proche du régime de Kigali venu de la diaspora voudrait récupérer l'entreprise Urwibutso. Certains prédisent même que l'affaire est déjà réglée car la technique de destabilisation avant la descente aux enfers est en marche. Certains proches de Gérard Sina ont déjà fui le pays, d'autres sont dans la peur d'être interpelés par les tribunaux gacaca. Le repreneur de ses biens pourrait ne dépenser aucun centime si le patron de l'entreprise est accusé de "
génocidaire
ou d'idéologie génocidaire", une manière simple et classique pour écarter un Hutu.
Mais l'affaire Gérad Sina risque de faire beaucoup de bruit. L'entreprise Urwibutso est avant tout une affaire familiale, mais aussi une belle aventure d'un enfant de la rue sauvé par l'inventeur de la soupe aux voyageurs Umufa, d'où peut-être le nom d'Entreprise Urwibutso, le souvenir.
ENGLISH VERSION
Autodidact and former street boy, Gérad Nyirangarama Sina has done a great showcase for industrial innovation in Rwanda.
Leader in agribusiness in Rwanda, his company Urwibutso worth several billion Rwandan francs.
It is coveted by a relative of the Kigali regime came from the diaspora.
Destabilization maneuvers have already begun.
A faultless
Recovered in the street by Damien Libakare, owner of Luna bar in Kigali in front of Central Market restaurant and bar in the former Nyirangarama Tare commune, Gerard Sina was adopted by the family.
He left early primary school to follow the truck of his adoptive father whom he married a girl again later.
After the death of his mentor and adoptive father who had introduced him to business, he went brilliantly Nyirangarama bar restaurant, famous for his soup to travelers based beef prepared in the traditional method called Umufa.
Nyirangarama break was needed to continue the journey before facing the rising hills of Ruhengeri prefecture after the plain base.
Gerard Sina never left his country.
After taking power in Rwanda by the RPF, he acommença to invest in the agri-food attracting the curiosity of the new regime that gave him a platform advertising.
His company exports to the world of passion fruit juice (passion fruit), pineapple and strawberries, and green pepper (pilipili).
Leader in agribusiness in Rwanda, Mr. Sina is a regular guest at international fairs.
In Frankfurt in Germany, he was awarded the Arch of Europe.
At the last fair in Kigali, he introduced a new product from his laboratory recheche and development, passion fruit oil.
Factories Gérad Sina have welcomed several distinguished guests including President Paul Kagame of the Republic, Prime Minister Bernard Makuza, former British Prime Minister Tony Blair, French Minister of Foreign Affairs Bernard Kouchner and former president of the
Wolvowitch World Bank, to name a few.
He has already received the prize for best entrepreneur Rwanda.
A success that is cringe
The success of this child Nyirangarama attracts jealousy.
Near the Kigali regime came from the diaspora would recover Urwibutso company.
Some even predict that the case is already set as the technique of destabilization before the descent into hell is running.
Some relatives of Gerard Sina have already fled the country, others are in fear of being arrested by the gacaca courts.
The purchaser of property could not spend any penny if the boss of the company is accused of "genocide or genocidal ideology," a simple and classic to avert a Hutu.
But the case Gérad Sina may make a fuss.
The company Urwibutso is primarily a family business, but also a beautiful adventure of a street child rescued by the inventor of the soup Umufa travelers, which may be called Enterprise Urwibutso the memory
.
www.irwanda.com